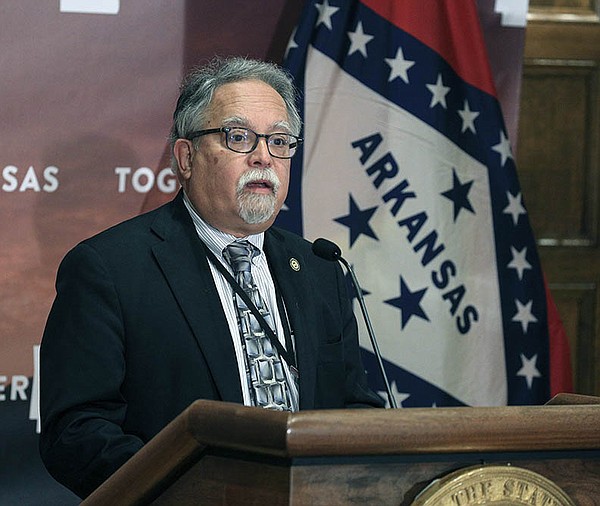 In an effort to address people's concerns and help give them clarity and "peace of mind" during the COVID-19 pandemic, Garland County Library Adult Programmer Paul Kagebein will host a virtual talk with Arkansas Secretary of Health Dr. Jose Romero.
The event will be held at 6 p.m. on Tuesday and livestreamed through the library's Facebook page at http://www.facebook.com/garlandcountylibrary, as well as posted to the library's YouTube page following the discussion.
"The library is meant to be the connection point for anyone in the community so really any topic that is of public concern is within the library's scope of interest for helping spread information to our residents," Kagebein said. "I look forward to virtually meeting Dr. Romero and speaking to him pretty much about the biggest topic of the year, as well as being able to have the public ask their questions via Facebook Live."
He said he plans to talk with Romero about the COVID-19 pandemic, and everything that pertains to it, from symptoms and projections to myths and misunderstandings on the numbers in Arkansas and especially Garland County.
"Dr. Romero just recently has taken over as the secretary of health, and also with schools starting and the pandemic showing no end in sight, it's important to have something like this for our community," Kagebein said.
According to a news release, the live discussion with Romero will be the fourth such event hosted by the library, following David Hill's talk about his new book, "The Vapors: A Southern Family, the New York Mob, and the Rise and Fall of Hot Springs, America's Forgotten Capital of Vice," author Michael Ray Taylor's discussion of his new book, "Hidden Nature: Wild Southern Caves," and Janis K. Percefull's biographical lecture about Susan B. Anthony.
Previous virtual events can be found on the library's Facebook and YouTube pages.
Upcoming virtual events include a live bread making demonstration with the Garland County Cooperative Extension Office's Alison Crane. Rising to the Occasion with Breads will be livestreamed at 6 p.m. on Wednesday. An ingredients list for the recipes she will be demonstrating is available online at http://www.gclibrary.com.
Beginner's Chinese Calligraphy will be held at 7:30 p.m. on Sept. 24 via Zoom. More information and registration for all upcoming programs can be found at the library's website.